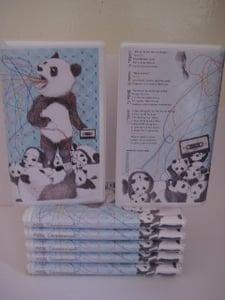 £

3.00 - On Sale
NEW!!!!!! "Counterexample" Ml006 - Talibam!, Sloppy Seconds, Monosodic, F.M.G 2 X C20 cassette.
Talibam! rip it up with a storming improv jazz fest live at the Cake Shop, New York.
non-dimensional time rabbits Sloppy Seconds will scare the shit out of you with their amazing sound, this London duo are not to be messed with.
Monosodic lures you in with his beautifully named songs, but with beats blasting at 300 mph and guitars to match you'll think again.
F.M.G brings it home with gut busting noise swelling out into blissful drones.
This 2 x C20 casette release is housed in a 2 way cassette case with amazing artwork by the wonderful www.sandradieckmann.com/
This is very limited and comes with a coupon for MP3 downloads.
ENJOY!!!